Sunday Services at 10:30 A.M.
4/2/23 Rev. Barbara Threet, Singing the Living Tradition
Every Sunday we pass out copies of our hymnal. Today we'll explore some of its hidden and not-so-hidden treasures, twists and turns: in the words of one of the songs in our hymnal, "Now let us sing!" We'll also learn a bit about the role of music in worship for our Unitarian and Universalist forebears.
Please bring a contribution for Food First Sunday. Canned goods with pull tabs are easiest for people who don't have kitchen access, but any non-perishable food is most welcome.
4/16/23 Meg Baker, On Mending
We live surrounded by textiles, and we live surrounded by wear and tear. Things come apart, from seams to hearts to communities. Bringing together threads of history, community, practicality and spirituality, we weave an interdependent web to help mend ourselves and our world.
4/23/23 Rebecca Mattis, Eternal Life
This is a combination Easter/Earth Day sermon that Rebecca wrote for a congregation in Austin, TX. Rebecca wrestles with the spiritual wound that is climate change, considering themes of death and rebirth, despair and hope, freezing and fecundity, brevity and eternity. Human behavior causes environmental destruction, yet humans are part of and subject to nature. Is it too audacious to speak of redemption?
4/30/23 Turning Point Center of Rutland
This is about a non-profit recovery center that provides a safe, friendly, fun, and substance free environment. All people in recovery, and their family and friends, can meet here for recovery support, meetings, social activities, recovery coaching, education, and advocacy. The Turning Point Center respects all paths to recovery.
5/7/23 Rev Barbara Threet, The Other Descendants
American UUs and English Unitarians trace their ancestry back to the Reformation: we're close cousins. Another branch of our family, our somewhat less-well-known and slightly-different cousins eventually landed in Transylvania, in what is now Romania. We'll explore how they got there, who they are today, and what some of the similarities and differences are between western UUs and Eastern European Unitarians. The topic for this sermon was purchased by Herb Ogden at our 2022 Auction.
Where We Are Located
We are located at 117 West Street, downtown Rutland. For directions please call 802-775-0850.
A Liberal Religious Community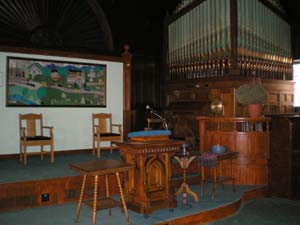 Are you looking for a church home where,
~ people affirm the integrity of each person's spiritual journey?
~ members work towards a fair and just society?
~ you can join a supportive community for all ages?
If this sounds like a church for you, be our guest this Sunday at 10:30
Upcoming Events
On Saturday, April 15 at 7:30PM, Rutland UU Coffeehouse Concerts will present "The Beauty We Love," a special concert featuring Grammy Award-winning cellist Eugene Friesen. Friesen, a graduate of the Yale School of Music, has toured the world as a soloist and as a member of the Paul Winter Consort with whom he's recorded over 20 CDs, four of which won Grammy Awards.
Friesen's program, including sounds and ideas drawn from travels on six continents, features a diverse repertoire that includes his original music, J.S. Bach, electronics, natural soundscapes, and the poetry of Rumi to paint a portrait of a world united in hope.
$15 advance/online, $20 door.If you purchased March 4 tickets, they're still valid
Our Mission Statement
The Unitarian Universalist Church of Rutland exists to provide a joyful and mutually supportive community of all ages, while fostering spiritual growth and the search for personal truth for the free and creative expression of thought, feeling and ideas; and to make a difference here in our own fellowship and in the wider community by working for a more tolerant, respectful and compassionate world.

Sunday services are at 10:30 a.m. All are welcome in the church if they follow state pandemic recommendations. Remote attendance is also welcome using this link: zoom.us/j/96613644703?pwd=YmQzUmJSWmNSTmtOVUFMWFZvTU9UZz09 Meeting ID: 966 1364 4703, Passcode: 386757.]