Sunday Services at 10:30 A.M.
In person, Zoom only, and Hybrid In Person/Zoom services as listed below.
To hear our most recent recorded sermons click on "Hear Our Most Recent Sermons" in the column to the left. To read our most recent newsletter click on "Read Our Most Recent Newsletter" in the column to the left.
December 5th Rev. Barbara, To Dwell Together in Peace
We say these words every Sunday as part of our Affirmation. "Dwell" is big word - it implies putting down roots and staying a while. Given that honest humans will inevitably disagree from time, how can a congregation dwell, together, in peace?
December 12th Alicia Cooke, How to Be Wrong: right things, wrong things, and embracing the uncertainty in between
We Unitarian Universalists are skilled appliers of reason, rationality, and intellect- all the better with which to seek truth. Yet we'd be wise to ponder the words of Anne Lamott, who tells us "When we are stuck in our convictions and personas, we enter into the disease of having good ideas and being right." The truth is messy, tricky, and even at times overrated. In this message we will ponder the grace it takes to recognize the limits of our truth-seeking and live with uncertainty- and the rewards that may flow from doing so.
December 19th Herb Ogden, The Ideal Christmas
Herb will describe a Christmas of 65 years ago in a farm without electricity and lead a discussion of what the congregants feel is their ideal winter solstice holiday and how they are modifying it on account of the pandemic.
December 24th 5:00 P.M. Rev. Barbara, Christmas Eve Vesper's Service
As of this writing, we plan a service with candlelight, carols (although not sung by all of us as a congregation), and readings for the season, at 5:00 PM in our Sanctuary. Parts of it will be very familiar and parts will be modified. All of it, I trust, will be lovely. Please join us.
December 26th NO SERVICE
Your Liberal Religious Home in Downtown Rutland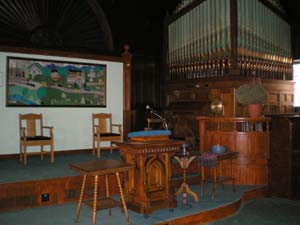 Are you looking for a church home:
>Where people affirm the integrity of each person's spiritual journey?
>Where members work towards a fair and just society?
>Where you can join a supportive community for all ages?
If this sounds like a church for you, be our guest this Sunday at 10:30 at the Unitarian Universalist Church of Rutland,117 West Street.
Our Mission Statement
The Unitarian Universalist Church of Rutland exists to provide a joyful and mutually supportive community of all ages, while fostering spiritual growth and the search for personal truth for the free and creative expression of thought, feeling and ideas; and to make a difference here in our own fellowship and in the wider community by working for a more tolerant, respectful and compassionate world.
Where We Are Located
We are located at 117 West Street, downtown Rutland. For directions please call 802-775-0850.