Sunday Services at 10:30 A.M.
In person, Zoom only, and Hybrid In Person/Zoom services as listed below.
To hear our most recent recorded sermons click on "Hear Our Most Recent Sermons" in the column to the left. To read our most recent newsletter click on "Read Our Most Recent Newsletter" in the column to the left.]
Here is a link to a helpful video on how to use Zoom. (Just click on it, and the video will play!)
www.youtube.com/watch?v=9isp3qPeQ0E
If you need help during the week to get Zoom working for you, please call the church at 802-775-0850. You will be called back by someone who can guide you through it. Zoom is generally easy to use and it works on computers, tablets and smart phones.
To receive the required email invitation to join a Sunday Service by Zoom, please call Nancy Weis at (802) 273-3571.
July 11th - A Celebration of Books, Nancy Weis - In person and via Zoom
If you are anything like me, reading has been even more important than usual to you in this year of isolation. Tell us about a book that has particularly helped you survive and prosper. This will be our first attempt at meeting both in person in our sanctuary and by Zoom at the same time. If you come in person, you are invited to bring books to exchange, but no books will be left at the church after the service.
July 25th - Songs of Freedom and Unity, Bruce Douglas - In person and via Zoom. Similar to last summer's music service but in person in the church, the order of service will be built around our resident musicians presenting songs or poems that speak to them of freedom and unity (Vermont's state motto).

August 8th - One weekend in Spain: The Magic Circle, Karen Neller - Zoom only.
How can a story told long ago still seem to ripple and glimmer with life, today? This service will be by Zoom only. From Spain, Karen will share the story of "Johnny Windows" and ask for reflections on "road trips" from those gathered. This summer brings back the possibility of road trips, after sheltering at home for so long. What do we look for along the way? What motivates our travel? Who comes along with us?
August 22nd - CLEANUP, PICNIC, AND SPIRIT IN NATURE, Herb Ogden - In person only.
We offer three activities. Please join us for one, two, or all three. Those who are inclined will meet at the church at 10:30 a.m. to get it all ready for in-person fall services. There are seats to be vacuumed, hymnals to be decluttered, shelves to be organized, stale teabags to be jettisoned, and more. Around 11:30 we will have a picnic lunch. Then, at 12:15 p.m., we will drive to Ripton for a walk on some of the Spirit in Nature trails. In addition to the UU Path and maybe one other that we've walked before, we will go across the road to walk the Friends, Muslim, Hindu, Bahai, and Jewish Paths. More info on Spirit in Nature is at www.spiritinnature.org.
Child Care and Sunday School
We believe Religious Education provides the opportunity for children of all ages to develop spiritual and moral identities.
Your Liberal Religious Home in Downtown Rutland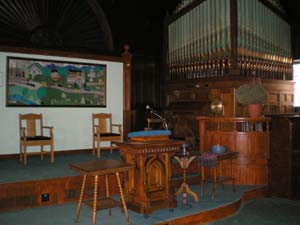 Are you looking for a church home:
>Where people affirm the integrity of each person's spiritual journey?
>Where members work towards a fair and just society?
>Where you can join a supportive community for all ages?
If this sounds like a church for you, be our guest this Sunday at 10:30 at the Unitarian Universalist Church of Rutland,117 West Street.
Our Mission Statement
The Unitarian Universalist Church of Rutland exists to provide a joyful and mutually supportive community of all ages, while fostering spiritual growth and the search for personal truth for the free and creative expression of thought, feeling and ideas; and to make a difference here in our own fellowship and in the wider community by working for a more tolerant, respectful and compassionate world.
Where We Are Located
We are located at 117 West Street, downtown Rutland. For directions please call 802-775-0850.