Online ZOOM Sunday Service at 10:30 A.M.
No In Person Services at the Church until further notice - ZOOM services Sundays as listed below at 10:30. - To hear our most recent recorded sermons click on "Hear Our Most Recent Sermons" in the column to the left. To read our most recent newsletter click on "Read Our Most Recent Newsletter" in the column to the left.
Because of the coronavirus quarantine, there will be no gathering for services at our church, until further notice. Here are our plans for this month's online services, via Zoom. Some programs, particularly Rev. Threet's, may vary to address the changing needs of the moment. We all miss being together, but while we are not, we can still keep in touch and help each other in fellowship.
Here is a link to a helpful video on how to use Zoom. (Just click on it, and the video will play!)
www.youtube.com/watch?v=9isp3qPeQ0E
If you need help during the week to get Zoom working for you, please call the church at 802-775-0850. You will be called back by someone who can guide you through it. Zoom is generally easy to use and it works on computers, tablets and smart phones.
To receive the required email invitation to join the Sunday Service please call Nancy Weis at (802) 273-3571.
November 29 - Our Thanks - Congregation
We all have a great deal to be thankful for, and we also know that being aware of gratitude is a good thing. Those who attend are invited to speak for 1 - 5 minutes each on this Thanksgiving theme. First come, first served. Tell us about an event, a person, or some other thing you are grateful for. If you want people to see an image or hear music shared, we can do that through Zoom screen sharing, too.

December 6 - A Complicated Christmas - Rev. Barbara Threet
This holiday season is like no other, and figuring out how to observe it or even what holidays mean to us will probably be a challenge. How in the world (or at least here in Rutland) can we make them meaningful?
December 13 - What Would Odin Do at a BLM March? Reflections on my experiences with Norse Paganism - Yvonne Brunot
Born from a life-long interest in ancient, non-Abrahamic religions, Yvonne Brunot will give a sermon on Norse Paganism and how it played a role in her spiritual life. As someone who is fascinated by the roots of our language and culture, she thinks it is high time we paid more attention to our culture's influences from the Viking era.

December 20 - A Holiday Radio Play - Rev. Barbara & Sunday Service Committee
Our morning service will include a holiday radio play from 1942, presented by a brilliant cast to our Zoom audience of UUCR members, with our guests the UU Congregation of Glens Falls. Please join us for a most enjoyable and amusing morning!
December 24 - NO Christmas Eve service this year
December 27 - The Social, Moral, and Political Philosophy of Thomas Jefferson - Clark Chelsey Chelsey, author of The Radicalization of Thomas Jefferson, will share some of his insights into Jefferson's life and ideas.
January 3 - Transcendence, Science and Community - J.P.Cass
How do we balance our innate desires for some form of transcendence, with living in a technological society? This will be based in part on the book Why Trust Science? by Naomi Oreskes.

January 10 - Why I Travel, What I Learn - Rev. Barbara
I was planning to be out of the country on sabbatical for all of January, but then Covid intervened. So I plan to ignore Covid completely this Sunday and indulge my longing to be traveling even though it's not possible now. I'll share some vignettes about my travels over the last many years, and reflect on why it's so important (at least to me), and what it's taught me.

January 17 - Walking Down the Road to the Promised Land - Rev. Kathy Duhon
Martin Luther King, Jr. asked, "If I don't stop to help people in need, what will happen to them?" When he thought about how to deal with whatever brokenness one comes across while walking down the road, he didn't just imagine bandages; King was propelled into politics. When we mix religion and politics, when we dream dreams of peace and justice, we are following our faith into action.

January 24 - A Taoist Way from an Educator and Artist - Dustin Kemp (from Mt. Mansfield UU Fellowship through the Lay Pulpit Exchange)
How Taoist concepts drive the way I educate, do art, and approach life.
January 31 - The Real Marshmallow Test - Rev. Amy Zucker Morgenstern
A famous Stanford experiment purported to show how self-control in childhood presaged success in adulthood. It actually revealed more about broken and kept promises, human potential and how we can create a better society.
Amy was minister of the UU Church of Rutland from 1999 to 2003. Since then, she has served with the Unitarian Universalist Church of Palo Alto. She lives in San Francisco with her wife and daughter and will be delighted to be back with the Rutland folks this morning.
February 7 - Rosa Parks: It All Matters - Rev. Barbara
Rosa Parks' birthday is February 4: she would be 107 were she still alive. The common myth is that she was simply a tired black woman who refused to give up her seat and started a revolution but there's a lot more to the story. Seeds planted far earlier led to that moment, as do the seeds planted in our own lives, and the seeds we plant for others.
Welcome to our new tenant - Horizons Early Learning Center 802-773-5300
We welcome the Learning Center to the use of our facilities. To contact the Center call. 802-773-5300. The center is independently operated an not affiliated with our church.
Your Liberal Religious Home in Downtown Rutland Vermont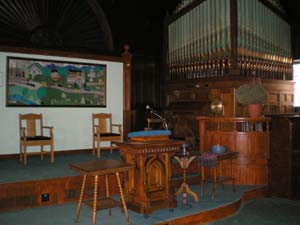 Are you looking for a church home:
>Where people affirm the integrity of each person's spiritual journey?
>Where members work towards a fair and just society?
>Where you can join a supportive community for all ages?
If this sounds like a church for you, be our guest this Sunday at 10:30 at the Unitarian Universalist Church of Rutland,117 West Street.
Statement of Support for Rutland Welcoming Syrian and Iraqi Refugees
"Because our Unitarian Universalist principles call us to affirm the inherent worth and dignity of every person, act with justice and compassion, and build world community; and because we recognize that communities are enriched by embracing cultural and religious diversity, RESOLVED that we, the Unitarian Universalist Church of Rutland, stand in support of Rutland welcoming Syrian and Iraqi refugees to the community and support efforts to ease the transition for the refugees resettling here."
Our Mission Statement
The Unitarian Universalist Church of Rutland exists to provide a joyful and mutually supportive community of all ages, while fostering spiritual growth and the search for personal truth for the free and creative expression of thought, feeling and ideas; and to make a difference here in our own fellowship and in the wider community by working for a more tolerant, respectful and compassionate world.
<div class="fb-follow" data-href="www.facebook.com/zuck&quot; data-colorscheme="light" data-layout="standard" data-show-faces="true"></div>
Child Care and Sunday School at 10:30
We believe Religious Education provides the opportunity for children of all ages to develop spiritual and moral identities.
Where We are Located
We are located in downtown Rutland at 117 West Street. Please call the church at (802) 775-0850 if you need directions.
December 8 - Rev. Barbara Threet - Let there be Joy