Sunday Services at 10:30 A.M.
In person, Zoom only, and Hybrid In Person/Zoom services as listed below.
To hear our most recent recorded sermons click on "Hear Our Most Recent Sermons" in the column to the left. To read our most recent newsletter click on "Read Our Most Recent Newsletter" in the column to the left.]
Here is a link to a helpful video on how to use Zoom. (Just click on it, and the video will play!)
www.youtube.com/watch?v=9isp3qPeQ0E
If you need help during the week to get Zoom working for you, please call the church at 802-775-0850. You will be called back by someone who can guide you through it. Zoom is generally easy to use and it works on computers, tablets and smart phones.
To receive the required email invitation to join a Sunday Service by Zoom, please call Nancy Weis at (802) 273-3571.
September 12: Rev. Barbara Threet -
"Ingathering/Water Communion
We'll hold our traditional Ingathering Water Ceremony in some kind of way, either on Zoom, or possibly in our Sanctuary - instructions will be emailed closer to the event date. But SAVE A BIT OF WATER, that in some way symbolizes what you bring to this coming church year. See you soon!
ALSO - It's the return of Religious Education Sunday! We invite families with children and teens to join us at Pine Hill Park at 1pm (we'll meet in the parking lot, near the Giorgetti building) where we will lead outdoor activities from the UUA curriculum "Circle of Trees".
September 19th: Boaz Cohen -
"Sound Bath: A Chakra Tune-Up Session with Crystal Singing Bowls"
Crystal Singing Bowls are used with Yoga, sound healing, space clearing, Chakra Tune-Ups and to signify the beginning and end of meditation. Studies have shown that sound has a direct impact on mental processes and physical homeostasis (muscles, nervous system, heartbeat, etc.). The notes of the Crystal Singing Bowls correspond with each of the major Chakras. Chakras can be understood as the energy centers of the body. Each energy center has unique aspects and corresponds with specific tones of the musical scale. Keeping these centers in balance results in maintaining harmony within ourselves as energy beings. Each persons experience when listening to the bowls is quite singular.
Sept. 26th: Nancy Weis -
"Being the Butterfly"
We all know about the butterfly principle - that a tiny flapping of wings can affect the formation of a hurricane in another continent. If that is so, perhaps our purposeful flapping of ideas and actions can affect the world. So, what makes us think we can flap effectively?
October 3rd: Rev Barbara Treet
"Topic TBA"]
Child Care and Sunday School
We believe Religious Education provides the opportunity for children of all ages to develop spiritual and moral identities.
Your Liberal Religious Home in Downtown Rutland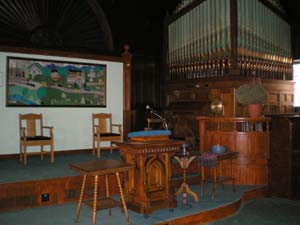 Are you looking for a church home:
>Where people affirm the integrity of each person's spiritual journey?
>Where members work towards a fair and just society?
>Where you can join a supportive community for all ages?
If this sounds like a church for you, be our guest this Sunday at 10:30 at the Unitarian Universalist Church of Rutland,117 West Street.
Our Mission Statement
The Unitarian Universalist Church of Rutland exists to provide a joyful and mutually supportive community of all ages, while fostering spiritual growth and the search for personal truth for the free and creative expression of thought, feeling and ideas; and to make a difference here in our own fellowship and in the wider community by working for a more tolerant, respectful and compassionate world.
Where We Are Located
We are located at 117 West Street, downtown Rutland. For directions please call 802-775-0850.