Online ZOOM Sunday Services at 10:30 A.M.
No In Person Services at the Church until further notice - ZOOM services Sundays as listed below at 10:30. - To hear our most recent recorded sermons click on "Hear Our Most Recent Sermons" in the column to the left. To read our most recent newsletter click on "Read Our Most Recent Newsletter" in the column to the left.
Because of the coronavirus quarantine, there will be no gathering for services at our church, until further notice. Here are our plans for this month's online services, via Zoom. Some programs, particularly Rev. Threet's, may vary to address the changing needs of the moment. We all miss being together, but while we are not, we can still keep in touch and help each other in fellowship.
Here is a link to a helpful video on how to use Zoom. (Just click on it, and the video will play!)
www.youtube.com/watch?v=9isp3qPeQ0E
If you need help during the week to get Zoom working for you, please call the church at 802-775-0850. You will be called back by someone who can guide you through it. Zoom is generally easy to use and it works on computers, tablets and smart phones.
To receive the required email invitation to join the Sunday Service please call Nancy Weis at (802) 273-3571.
May 23rd: TBA
May 30th: Rev. Barbara Threet, "Finding Calm After the Storm"
The past many, many months have felt stormy indeed! And now we approach summer, which usually brings a bit of lull in congregational activities in UU churches. What does summer mean this year - where might we find respite and renewal?
June 6th: Ethan Watters, "Crazy Like Us"
Ethan will discuss America's Most troubling and least understood impact on globalization. Based on his book Crazy Like Us, he reveals that the most devastating consequence of the spread of American culture has not been out golden arches but our bulldozing of the human psyche itself. We are in the process of homogenizing the way the world goes mad. It turns out that we have not only been changing the way the world talks about and treats mental illness --we have been changing the mental illness themselves. As we introduce Americanized ways of treating mental illness, we are in fact spreading our version of these disease.
June 13th: Nancy Weis & Kimberly Bushnell, "Emerging from the Cave"
We are coming out of one of the strangest and most historically significant years in American history. Around 300 BCE, the philosopher, Plato wrote about a cave as an allergory, and his story is still widely read today. What do his lessons have to do with our emergence from this dark year? We will recognize some of the people in this congregation who helped us all.
June 20th: Herb Ogden, Nancy Weis and J.P. Cass, "6:45 p.m. Summer Solstice"
Outdoors at Mary Ashcroft's Harolhenge, 731 Creek Rroad, Rutland Town.
All are welcome at a very large stone circle for a spiritual celebration of the cycles of Nature and the vitality of our fire of commitment--through short readings, meditation, movement, along with the usual burning of the dry evergreen with what we wish to be rid of. Bring instruments and noisemakers. Bug repellant may be useful, though we will have citronella torches. This in person service is subject to state requirements and church policies and these may change, so please check church website, www.rutlanduu.org, or contact Herb, hogden@vermontel.net, for updates before car pooling or driving to Haroldhenge.
Child Care and Sunday School
We believe Religious Education provides the opportunity for children of all ages to develop spiritual and moral identities.
Your Liberal Religious Home in Downtown Rutland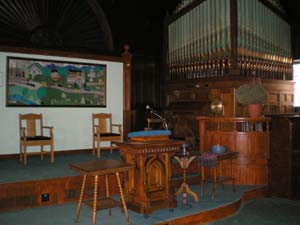 Are you looking for a church home:
>Where people affirm the integrity of each person's spiritual journey?
>Where members work towards a fair and just society?
>Where you can join a supportive community for all ages?
If this sounds like a church for you, be our guest this Sunday at 10:30 at the Unitarian Universalist Church of Rutland,117 West Street.
Our Mission Statement
The Unitarian Universalist Church of Rutland exists to provide a joyful and mutually supportive community of all ages, while fostering spiritual growth and the search for personal truth for the free and creative expression of thought, feeling and ideas; and to make a difference here in our own fellowship and in the wider community by working for a more tolerant, respectful and compassionate world.
Where We Are Located
We are located at 117 West Street, downtown Rutland. For directions please call 802-775-0850.