Sunday Services at 10:30 A.M.
July 24th Alyssa Dufresne, This is Water: How to transform stress in your daily life
Join us on July 24th in an interactive discourse on transforming stress in your daily life. During this time, we will cover an abbreviated version of David Foster Wallace's commencement speech, "This is Water," and how the ideas he presented can help you find light in even the most stressful situations. Additionally, we will explore how this speech relates to the Seven Principles and the importance of having a core belief to fall back on. To listen to his full speech, go to youtu.be/ms2BvRbjOYo. Transcript: purdue.edu/~drkelly/DFWKenyonAddress2005.pdf
July 31st No service
August 7th Karen Neller, El Camino De Santiago: A Pilgrimage in Spain
For centuries, people have set their sights on reaching Santiago de Compostela in northwestern Spain. There are movies, books, and websites galore about it, and many different routes and ways of getting there. People on the Way of Santiago greet each other with "Buen camino!" (Blessings on your way might be one translation) What "paths" are we on? What routes have we taken? Wherever the summer takes you, may we wish each other "buen camino" and know we are companions through the summer.
August 14th No service
August 21st No service
August 28th Nancy Weis, Humor as a UU Spiritual Practice
A Canadian UU seminary student named Liz James began a chat group to share humor with her peers, and accidentally started the UU Hysterical Association, a Facebook humor group with around 80,000 members. We will hear her talk about how and why it happened and share some good humor of our own.
A Liberal Religious Community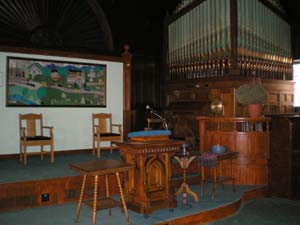 Are you looking for a church home where,
~ people affirm the integrity of each person's spiritual journey?
~ members work towards a fair and just society?
~ you can join a supportive community for all ages?
If this sounds like a church for you, be our guest this Sunday at 10:30
Our Mission Statement
The Unitarian Universalist Church of Rutland exists to provide a joyful and mutually supportive community of all ages, while fostering spiritual growth and the search for personal truth for the free and creative expression of thought, feeling and ideas; and to make a difference here in our own fellowship and in the wider community by working for a more tolerant, respectful and compassionate world.
Where We Are Located
We are located at 117 West Street, downtown Rutland. For directions please call 802-775-0850.
Sunday services are at 10:30 a.m. All are welcome in the church if they follow state pandemic recommendations. Remote attendance is also welcome using this link: zoom.us/j/96613644703?pwd=YmQzUmJSWmNSTmtOVUFMWFZvTU9UZz09 Meeting ID: 966 1364 4703, Passcode: 386757.]