Online ZOOM Sunday Services at 10:30 A.M.
No In Person Services at the Church until further notice - ZOOM services Sundays as listed below at 10:30. - To hear our most recent recorded sermons click on "Hear Our Most Recent Sermons" in the column to the left. To read our most recent newsletter click on "Read Our Most Recent Newsletter" in the column to the left.
Because of the coronavirus quarantine, there will be no gathering for services at our church, until further notice. Here are our plans for this month's online services, via Zoom. Some programs, particularly Rev. Threet's, may vary to address the changing needs of the moment. We all miss being together, but while we are not, we can still keep in touch and help each other in fellowship.
Here is a link to a helpful video on how to use Zoom. (Just click on it, and the video will play!)
www.youtube.com/watch?v=9isp3qPeQ0E
If you need help during the week to get Zoom working for you, please call the church at 802-775-0850. You will be called back by someone who can guide you through it. Zoom is generally easy to use and it works on computers, tablets and smart phones.
To receive the required email invitation to join the Sunday Service please call Nancy Weis at (802) 273-3571.
Services:
January 31 - The Real Marshmallow Test - Rev. Amy Zucker Morgenstern
A famous Stanford experiment purported to show how self-control in childhood presaged success in adulthood. It actually revealed more about broken and kept promises, human potential and how we can create a better society.
Amy was minister of the UU Church of Rutland from 1999 to 2003. Since then, she has served with the Unitarian Universalist Church of Palo Alto. She lives in San Francisco with her wife and daughter and will be delighted to be back with the Rutland folks this morning.
February 7 - Rosa Parks: It All Matters, Rev. Barbara
Rosa Parks' birthday is February 4: she would be 107 were she still alive. The common myth is that she was simply a tired black woman who refused to give up her seat and started a revolution but there's a lot more to the story. Seeds planted far earlier led to that moment, as do the seeds planted in our own lives, and the seeds we plant for others.
February 14 - Nancy Weis Is It True What They Say About Love?
Meditations on Love and Critical Thinking Since there has been language, people have tried to explain love. Sometimes they have gotten it right… and sometimes not.
February 21st: Rev. Barbara
"In the Spaces of Hope"
Where do UUs find hope - where do humans in general find it? What's the difference between hope and blind optimism, or naiveté, or being a Pollyanna? Emily Dickinson says "hope is a thing with feathers" which makes it sound rather fleeting: is there a source of hope that endures?
February 28th: Matthew Pargater-Villareal
"The Risk of Being Myself"
As we commit ourselves to "Side With Love", join Matthew Pargater-Villarreal for a reflection on what it means for those of us in the LGBTQIA+ community to make the decision to come out and be ourselves -often in the midst of insurmountable odds- and how we can love, support, and celebrate all of those in the LGBTQIA+ community who are important members of our church family.
March 7 - Rev. Barbara (pledge Sunday)
On March 8th 2020, we met in person for what we could not possibly foresee would be the last time we'd meet in person in 2020. It was Pledge Sunday, and we broke into small groups to reflect on what we gain from our connections to each other and to UUCR: I believe the notes that each group made still hang in the back of our Sanctuary. This Sunday, we'll consider the connection between each of us and our church again, as we start the 2021 pledge campaign.
<div class="fb-follow" data-href="www.facebook.com/zuck&quot; data-colorscheme="light" data-layout="standard" data-show-faces="true"></div>
December 8 - Rev. Barbara Threet - Let there be Joy
Child Care and Sunday School
We believe Religious Education provides the opportunity for children of all ages to develop spiritual and moral identities.
Your Liberal Religious Home in Downtown Rutland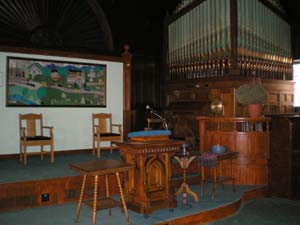 Are you looking for a church home:
>Where people affirm the integrity of each person's spiritual journey?
>Where members work towards a fair and just society?
>Where you can join a supportive community for all ages?
If this sounds like a church for you, be our guest this Sunday at 10:30 at the Unitarian Universalist Church of Rutland,117 West Street.
Our Mission Statement
The Unitarian Universalist Church of Rutland exists to provide a joyful and mutually supportive community of all ages, while fostering spiritual growth and the search for personal truth for the free and creative expression of thought, feeling and ideas; and to make a difference here in our own fellowship and in the wider community by working for a more tolerant, respectful and compassionate world.
Where We Are Located
We are located at 117 West Street, downtown Rutland. For directions please call 802-775-0850.