Sunday Services at 10:30 A.M.
In person, Zoom only, and Hybrid In Person/Zoom services as listed below.
To hear our most recent recorded sermons click on "Hear Our Most Recent Sermons" in the column to the left. To read our most recent newsletter click on "Read Our Most Recent Newsletter" in the column to the left.]
Here is a link to a helpful video on how to use Zoom. (Just click on it, and the video will play!)
www.youtube.com/watch?v=9isp3qPeQ0E
If you need help during the week to get Zoom working for you, please call the church at 802-775-0850. You will be called back by someone who can guide you through it. Zoom is generally easy to use and it works on computers, tablets and smart phones.
To receive the required email invitation to join a Sunday Service by Zoom, please call Nancy Weis at (802) 273-3571.
October 3 Rev. Barbara Threet Settling In, in Unsettled Times
We're entering a second autumn of this Covid-influenced world. On October 2020, we knew what we had to do: stay home, stay on Zoom, work and learn from home, stay apart, wait for the vaccine that would deliver us from all of this. On October 2021, what we need to do is much less clear, and the data and parameters and challenges keep changing. How might we settle into this church year - indeed, how might we settle into this entire run-up-to-holiday season when so many factors that affect our daily lives are so unsettled?
October 10 Rev. Kathy Duhon, Strangers and Neighbors
Do you have stories that you keep returning to and finding more understanding? The Good Samaritan parable is one for me, and I keep encountering it both personally and in scholarship. I have been wounded by the side of the road, as well as come upon an elderly woman lying in a ditch, and I have also read surprising reflections on this story. Come and explore together the themes of strangers and neighbors in this ancient wisdom story that speaks to our day.
October 17 Karen Neller, Being An Ally
Suffixes and Ships: Ships figure in song lyrics ("I saw three ships come sailing in…"), history and exploration ( The Niña, the Pinto and the Santa María), transport, and travel… Have you been on a ship? Some words also end with -ship… what if they were "cruises"? Which cruise would you sign up for? Friendship? Leadership? Fellowship? How about "allyship"? What does it mean to be an ally? How are we allies?
October 24 Rev. Barbara Threet, The Spirits Move…
In the third quarter of the 1800s, Spiritualism was very popular with many people in the US, including many Universalists and even a few Unitarians! We'll explore what was that movement all about -- what its appeal was, how it spread, and why it eventually diminished.
October 31 Marc Wilder, You find what you search for
We as humans in the last two centuries have made a great mistake. The United Nations Intergovernmental Panel on Climate Change, composed of 800 science authors and 11,000 peer reviewers from all disciplines, recently published that human impact on earth systems from the burning of carbon from oil, gas, and coal is "unequivocally" causing the rise in earth temperatures beyond our ability to control it. We need to begin to understand this great mistake, what the connection and impacts between each of our activities and the atmosphere, oceans, forests and all the earth systems are, as well as how to mitigate or stop them. The continued existence on this planet of our grandchildren absolutely depends on this understanding by our governments and each of us here and everywhere, and more so on our immediate changes and adaptations. These are not choices any longer. They are necessities if we wish our grandchildren well.
Child Care and Sunday School
We believe Religious Education provides the opportunity for children of all ages to develop spiritual and moral identities.
Your Liberal Religious Home in Downtown Rutland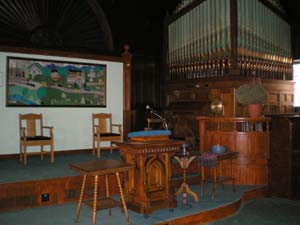 Are you looking for a church home:
>Where people affirm the integrity of each person's spiritual journey?
>Where members work towards a fair and just society?
>Where you can join a supportive community for all ages?
If this sounds like a church for you, be our guest this Sunday at 10:30 at the Unitarian Universalist Church of Rutland,117 West Street.
Our Mission Statement
The Unitarian Universalist Church of Rutland exists to provide a joyful and mutually supportive community of all ages, while fostering spiritual growth and the search for personal truth for the free and creative expression of thought, feeling and ideas; and to make a difference here in our own fellowship and in the wider community by working for a more tolerant, respectful and compassionate world.
Where We Are Located
We are located at 117 West Street, downtown Rutland. For directions please call 802-775-0850.