Your Liberal Religious Home in Downtown Rutland Vermont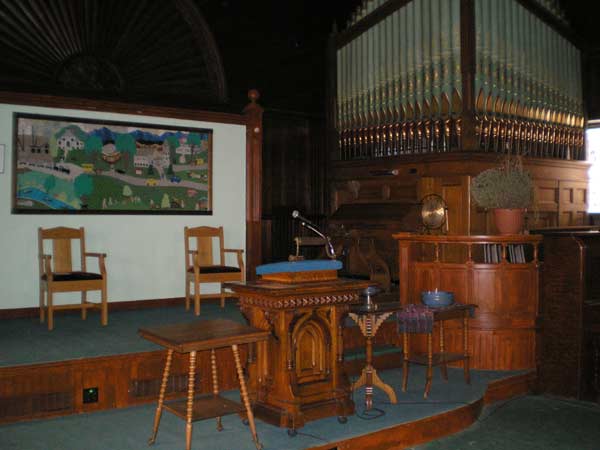 Are you looking for a church home where:
People affirm the integrity of each person's spiritual journey?
Members work towards a fair and just society?
You can join a supportive community for all ages?
If this sounds like a church for you, be our guest this Sunday at 10:30 at the Unitarian Universalist Church of Rutland,117 West Street.
Our Mission Statement
The Unitarian Universalist Church of Rutland exists to provide a joyful and mutually supportive community of all ages, while fostering spiritual growth and the search for personal truth for the free and creative expression of thought, feeling and ideas; and to make a difference here in our own fellowship and in the wider community by working for a more tolerant, respectful and compassionate world.
Child Care and Sunday School at 10:30
The Unitarian Universalist Church of Rutland is affiliated with the Unitarian Universalist Association of North America and is an ethical and liberal religious community dedicated to promoting the ongoing search for truth and to affirming the inherent worth of the individual.
We welcome all who find our emphasis on personal religious integrity and commitment meaningful.
We are located in downtown Rutland at 117 West Street.
Sunday Service at 10:30 A.M.
Apr. 5 Nancy Weis, "Calvin & Hobbes": John Calvin (1509-1564), Thomas Hobbes (1588-1679), and Bill Watterson of the beloved Calvin and Hobbes comic strip are all significant influences on our current philosophy. How do they relate to each other, and what are we to make of this? Is life really all downhill on a fast sled?
Apr. 12 Regina Kohlhepp, "Growth and Age: the power of mindset." Philosophically speaking, "to learn" is a verb with no legitimate past tense. How to stretch forward into time, to avoid the deadly safety of the closed mind? Finding new beginnings and renewal as we grow old.
Apr. 19 Rev. Sears, "A Matter of Perspective": John and Janet Martin bought last year's sermon at the auction. The sermon will deal with our sense of perspective as we look at something or experience it. An example of this would be something that happened this past week, while I was in Philadelphia. A friend, whose mother was a prominent art collector, was telling me about some of his paintings. One is by Pablo Picasso, from the cubist period. When I asked him to describe it, he told me how he has to look at it from various angles to put everything together. Think of the different ways that you can describe one of your life experiences when you look at it from various perspectives.
Apr. 26 David Darton, "Surviving Death: - The Eddy Brothers of Chittenden and the Spiritualist Movement:
The talk will address the spiritualist movement of the mid to late 1800s, the religious diversity in the US in the 19th century and the culture and consciousness of the time. It will focus on the seances of 1874 at the Eddy farm in our neighboring town
of Chittenden, which was actually referred to as the spirit capital of the universe, and the Eddy brothers as the global superstars of
spiritualism at the tail end of the movement.
May 3 Susan Abraham, "Pope Francis: Capturing the World's Imagination": A "long" historical overview argues that the Pope needs to be placed in relation to the Council of Trent, Vatican I and Vatican II. In such a long view, Pope Francis is truly the first Vatican II Pope the Catholic Church has ever had. Further, the context in which the Pope is received in the United States is the context of what can only be called American Catholicism. Here, the speaker argues that the Pope is surprising to many because he is drawing on a different strand of Catholic theological tradition than many American traditional Catholics.
Webmaster
Tim Abraham - 558-0389
<div class="fb-follow" data-href="www.facebook.com/zuck&quot; data-colorscheme="light" data-layout="standard" data-show-faces="true"></div>