Unitarian Universalist Church of Rutland - Child Care Available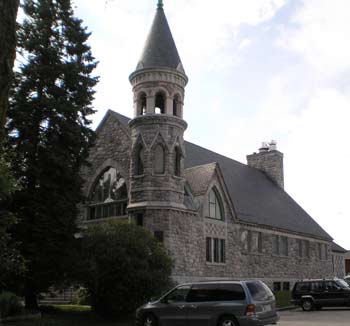 The Unitarian Universalist Church of Rutland is affiliated with the Unitarian Universalist Association of North America and is an ethical and liberal religious community dedicated to promoting the ongoing search for truth and to affirming the inherent worth of the individual.
We welcome all who find our emphasis on personal religious integrity and commitment meaningful.
We are located in downtown Rutland at 117 West Street.
Services - Sunday at 10:30 A.M. - Child Care Available
October 5th Rev. Steve Wilson, "A Greed Upon Which Have Agreed": This service takes a look at who we are as Americans: morally and honestly we look at who we are and have been as a people. We will examine our ego and the cultivation of our Inner Consumer.
October 12th Bruce McNallie, "Thomas Starr King: Unitarian Minister and California Crusader."
October 19 - Chuck Piotrowski "Falling for Gravity - Chuck Piotrowski - This time of year leaves simply can't resist it. We Humans take extraordinary steps to defy it, but we often find ourselves "weighed down" This Sunday we'll use a certain gravitas as we take a flight of fancy and explore the ups and downs of gravity.
October 26th Rev. Sears, "Taking it to the streets": The UUA has selected Paul Rasor's book, Reclaiming Prophetic Witness: Liberal Religion in the Public Square, for this year's "Common Read." Rasor argues that liberal religionists tend to be reticent about speaking from positions of faith. The consequence is that whenever terms such as "values" or "the religious vote" are used, most people expect a restricting or denigrating message rather than a liberating one. I will lead a longer discussion of Rasor's book after the service. Copies will be available. Please contact Tejal in the church office to order one.
November 2nd Bruce Lierman, "The True Believer": Does it have meaning for us? Can one be a "fervent" Unitarian-Universalist? Are there truths so important to us that we have passion beyond reason for them? Bruce comes to us from Bennington through the Lay Pulpit Exchange.