Unitarian Universalist Church of Rutland - Child Care Available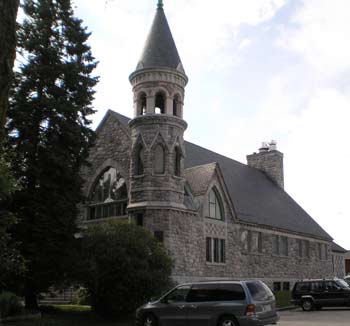 The Unitarian Universalist Church of Rutland is affiliated with the Unitarian Universalist Association of North America and is an ethical and liberal religious community dedicated to promoting the ongoing search for truth and to affirming the inherent worth of the individual.
We welcome all who find our emphasis on personal religious integrity and commitment meaningful.
We are located in downtown Rutland at 117 West Street.
Services - Sunday at 10:30 A.M. - Child Care Available
November 2nd Bruce Lierman, "The True Believer": Does it have meaning for us? Can one be a "fervent" Unitarian-Universalist? Are there truths so important to us that we have passion beyond reason for them? Bruce comes to us from Bennington through the Lay Pulpit Exchange.
Nov. 9 JoAnn Gaffron-Hargrove, "A UU Version of Patriotism": Do our sense of patriotism and national pride go along with our principles? Can we say "America is the greatest country on earth" and live by our principles (the inherent worth and dignity of every person)? We will explore this topic and those of you who have spent time in other countries are encouraged to share some of your related experiences. JoAnn comes to us from Springfield through the Lay Pulpit Exchange.
Nov. 16 Rev. Sears, "What would Confucius say today?": As children, many of us grew up saying "Confucius say," which would then be followed by some inane statement. On my way to China, I have been thinking about this wise man's sayings and his system of governance, particulalry in light of modern Chinese history, and contemporary events in Hong Kong.
Nov. 23 Cappy Nunlist, "The Tao of Risk Assessment": We live in a safer world than humankind has ever known, yet seem to live in the greatest fear. Why? Cappy comes to us from the Upper Valley congregation through the Lay Pulpit Exchange.
Nov. 30 Kathy Harm, "What Moves Us?": What do we mean when we say something moves us? Does this mean something in a spiritual sense? The speaker will start the discussion of what moves us with some personal observations and then everyone will be asked to share their thoughts as they wish.
Dec. 7 Rev. Sears, "Good news from the nation that gave us Pearl Harbor": The bulk of our time in Asia was spent in Japan. Carolyn and I both agreed that our favorite day was the one spent with our Buddhist siblings, the Rissho Kosei-kai. This morning's sermon will speak about their form of Buddhism, and what we can learn from 4.5 million of our UU-Buddhist siblings in the Internatioanl Association for Religious Freedom.