Unitarian Universalist Church of Rutland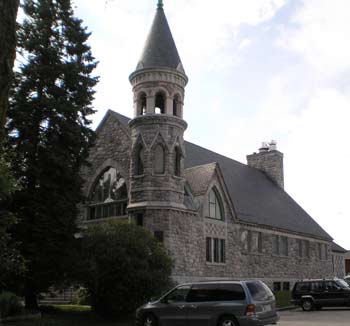 The Unitarian Universalist Church of Rutland is affiliated with the Unitarian Universalist Association of North America and is an ethical and liberal religious community dedicated to promoting the ongoing search for truth and to affirming the inherent worth of the individual.
We welcome all who find our emphasis on personal religious integrity and commitment meaningful.
We are located in downtown Rutland at 117 West Street.
Services
March 2nd Theresa Krieger, "Class Not Dismissed": Unitarian Universalism has traditionally drawn followers largely from the more privileged classes of society. Has this left our denomination with too limited a perspective as we pursue our "goal of world community"? Do we have a blind spot about class that hinders our social justice efforts?
March 9th Nancy Weis & Yvonne Brunot, "The Physics and Metaphysics of Bread": Bread influences our lives historically, nutritionally, allegorically, metaphorically, socially, and emotionally. We will explore some of these effects, and their in the context of our lives.
March 16th Kathy Letendre, ""What's in a Question: Supporting Youth With Helpful Answers": Reflecting on the various reasons that youth ask questions (from "am I normal" to testing out an idea), how we respond can make a world of difference to them (and us). As the youth in our lives (whether students, neighbors, nieces/nephews, grandchildren or kids) navigate this phase of their life -- clarifying their identity including their sexual identity -- we can be a sound resource and sometimes a life-saver.
March 23rd: "Steps Towards a Theology of Sustainability" - Rev. Stan Sears What are we doing to ensure that our children, and their children, and future generations will inherit a world as abundant as ours? When we speak of sustainability, we are speaking about our belief in the world's future. What greater statement of faith can we make? It is an act of faith in the world's future.
March 30th Rev. Steve Wilson, "The Moral Wisdom Existentialism": Existentialists describe the state humans find themselves thrown into here in life as absurd, meaningless, without the absolutes we have been promised. What next. Today, without claiming their lack of faith as an absolute, we face head on the challenge these thinkers of the last century ask of us; The challenge of creating our own meanings in life.
April 6th Nancy Weis, " "Habit, Custom, and Holy Writ": When we do anything that gratifies us, we tend to repeat it. The more we repeat it, the less we question its usefulness, meaning, and consequences. What does this mean to human lives?