Unitarian Universalist Church of Rutland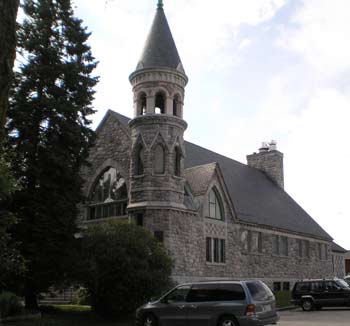 The Unitarian Universalist Church of Rutland is affiliated with the Unitarian Universalist Association of North America and is an ethical and liberal religious community dedicated to promoting the ongoing search for truth and to affirming the inherent worth of the individual.
We welcome all who find our emphasis on personal religious integrity and commitment meaningful.
We are located in downtown Rutland at 117 West Street.
Services
December 1st- JoAnn Gaffron-Hargrove, "What Made Superman So Super"How ironic, that the man who was so well known for portraying Superman in the movies should spend the last phase of his life as a quadriplegic? It was through that struggle that Christopher Reeves truly became a superman. His search for truth and meaning led him to become a Unitarian and a true model for living the UU Principles. JoAnn comes to us from the Springfield UU Church via the Lay Pulpit Exchange in the Northern New England District.
Dec. 8 Lifespan Religious Education, "Do Unto Otters": A mixed media presentation of dance, music, video and theater by the children of the congregation, based on the learning they have been in the first third of this church year.
Dec. 15 Jim Haley, "The Purpose of Time": Henry David Thoreau said, "Time is but the stream I go a-fishin' in." But what is the nature of this "stream"? What is the best way to "fish it" and what are we hoping to catch? We'll share ideas about time and what we do with it.
Dec. 21 Informal Winter Solstice Celebration at the home of Fredda Mangel & Kurt Kretvix, 1859 Creek Road, Clarendon (first driveway to the west south of the Walker Mtn. Rd. intersection).
5:30 Gather and mingle
5:45 Celebration outdoors around the bonfire with brief reading and ceremony.
6:00 Potluck
Dec. 22 Rev. Doctor Stan Sears, "How the Unitarians and Universalists Saved Christmas": This is a service worth bringing your non-UU family members to. Try to imagine Christmas without Christmas trees, "Jingle Bells," or "A Christmas Carol" on television. All of these traditions came to us via Unitarians or Universalists. There will be special music by Carolyn Christie, Second Flute in the Montreal Symphony.
Dec. 24,7 P.M. Christmas Eve Service of carols, readings, and personal vignettes from past holidays. Congregants are encouraged to contribute remembrance about a past Christmas.
Dec. 29 Bruce Lierman, "What are you trying to do?": No matter what our goals, from songwriting to spiritual enlightenment, sometimes the biggest obstacle is our own delusion about our real motives. This sermon explores some of the devils who block the path to reaching our goals, both individually and as a society. Bruce comes to us from Bennington through the Lay Pulpit Exchange.
Jan. 5 - Jeff Taylor, "Sloth! The much neglected Seventh Deadly Sin": What is sloth? Is sloth different from leisure?
What do Thomas Aquinas and others say about this? Do they make any sense? Are we all too lazy to think about sloth? Does any of this concern our religious/moral lives? Is sloth outdated?
Jan. 12 Chuck Piotrowski, "Rhythm of Life: Wintertime and the living is easy":] Chuck Piotrowski and musician Dan Brown team up to explore rhythm, beat, and the harmonic nature of the coolest season.
Jan.19 - Luther Brown and Fredda Mangel, Martin Luther King Service on children's perceptions of Dr. King and his ideas.
Jan.26 Rev. Doctor Stan Sears, "The Kirk's Alarm": This is the service when I pull out the bagpipes, put on the kilt, and speak about the Scottish poet, Robert Burns. Look in the E-Letters for more information on a festive dinner that Saturday night.
Feb. 2 Rebecca Mattis -"Practice Makes Humble: A Sermon for Groundhogs and Other Earthlings": Rebecca examines humility from an astronomic, agronomic, cinematic, and linguistic point of view.