Unitarian Universalist Church of Rutland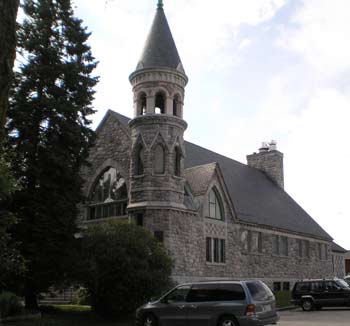 The Unitarian Universalist Church of Rutland is affiliated with the Unitarian Universalist Association of North America and is an ethical and liberal religious community dedicated to promoting the ongoing search for truth and to affirming the inherent worth of the individual.
We welcome all who find our emphasis on personal religious integrity and commitment meaningful.
We are located in downtown Rutland at 117 West Street.
Services - Sunday at 10:30 A.M.
September 7th Becky Eno, "Ingathering." Let's celebrate our "living waters" as we join together to launch a new year in our spiritual journeying together. Please bring some water representing your summer experiences and reflections to share in our annual Water Communion. This will be an intergenerational service.
Sepember 14th Gabriella Netsch, "From Principal to Princess": A story about a professional local transgendered woman and her journey to becoming authentic. From growing up in the 60's to becoming a parent in the 80's, to being a school administrator, to the greater acceptance of the gay community.
September 21st Rev. Stan Sears, "Why Read a Menu When You Can Enjoy a Feast?": This sermon will give you some insight into how I relate the preaching aspect of ministry to the spiritual growth of our congregations. Real spiritual growth requires outlets or places for us to put this growth to use. When we work together, we partake of a feast. (This also promotes for the Committee Mixer that our Leadership Development Committee is sponsoring after this morning's service.) One of my traditions has been to use my bagpipes for my first sermon of the year in each of my congregations. So, be prepared to start the morning off with some bagpipe music. The children are invited to parade around the church with their piping preacher at the start of the service.
September 28th Andre Mol, "How Wide Is Your Circle?": Many restorative justice programs begin with individuals gathering in a circle. Forming a circle, instead of drawing a line, is one of the ways that such programs differ from our traditional justice system. Andre Mol reflects on his experiences as a UU seminarian and a restorative justice volunteer in Rutland, and considers how circles can move us toward healing and wholeness in our lives.
October 5th Rev. Steve Wilson, "A Greed Upon Which Have Agreed": This service takes a look at who we are as Americans: morally and honestly we look at who we are and have been as a people. We will examine our ego and the cultivation of our Inner Consumer.
October 12th Bruce McNallie, "Thomas Starr King: Unitarian Minister and California Crusader."